Fight with Your Team in Conquest
Within the endless Dream, some of you might wonder how you can stand out among the sea of Dreamers. One way is by being the best in Arena, but do not forget about Conquest! Now in its 4th Season, if you are still not familiar with how Conquest Mode works, we have cooked up a detailed guide to get you started!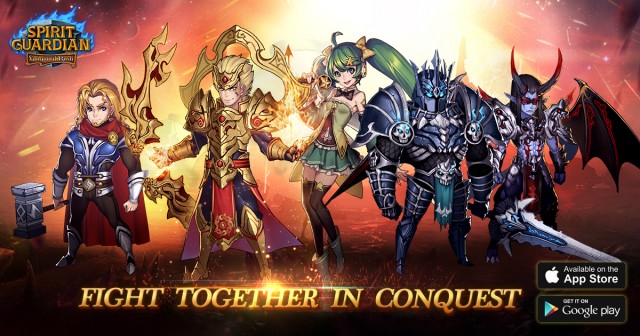 Conquest Rules:
1.Conquest unlocks at player level 70.
2.Conquest is 1v1 PvP mode where each player put their 3 best teams of heroes against other players in a best 3 out of 2.
3.Participating in Conquest will reward Honor Tokens, which can be used to buy various items in the Honor Shop.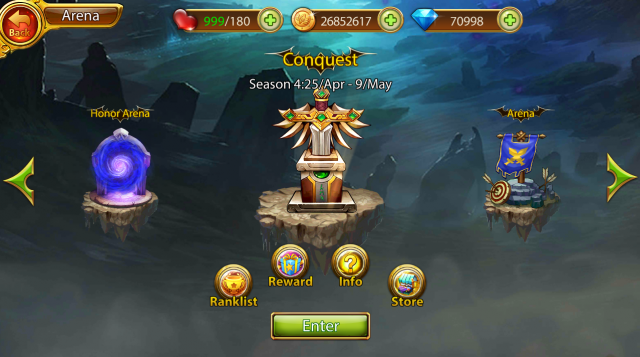 Casual Mode Introduction:
Even if you are the best, there is always someone waiting to take your crown. Always strive to innovate and come up with new strategies to stay above the rest. Use Casual mode to test all sorts of crazy ideas, and be prepared for anything.
1.Casual Mode matches all players from a server against one another.
2.Casual Mode is the ideal place to practice new strategies. There are no ranks or rewards in this mode, it's just for fun and experimentation!
Ranked Mode Introduction:
1.Ranked Mode is the Seasonal PvP mode; each Season runs for 2 weeks.
2.Each Season, players have 26 ranks to climb by defeating rivals, starting from from Lv1 all the way to Lv25 Rank and finally Legend Rank.
3.From Lv1 to Lv25, players must reach 100% progress in each rank to move to the next. Legend Rank has no progress, Legend Rank players compete for the top rankings.
4.From Lv1 to Lv25, the amount of progress players gain or lose is dependent on their current Rank.
5.From Lv1 to Lv15, each win gives 35% progress and players do not lose progress from defeats.
6.From Lv16 to Lv20, each win gives 25% progress and each defeat deducts 25%.
7.From Lv 21 to Lv25, each win gives 20% progress and each defeat deducts 20%.
8.From Lv16 to Lv25, if defeat reduces progress below 0%, the player will go down 1 rank.
9.Players that reach Legend Rank will be ranked amongst themselves based on Season wins and Season winrate.
10.At the end of the Season, the #1 Legend Rank player will receive the special "Western Myth Avatar Frame."
11.At the end of the Season, all Legend Rank players will receive the "Legend Avatar Frame".
12.At the end of the Season, players who reach Lv15 Rank or better will receive a Season Participation Avatar Frame.
13.All rewards are sent by in-game mail.
14.Daily rewards are sent every night at 10:00PM.
15.Season Rewards are sent at 11:00PM on the day the Season ends.
Team Formation Rules:
1.Players can deploy their Heroes that are level 55 or above and the weekly free Hero.
2.Different Hero teams can deploy the same Hero.
3.The 3 Hero teams only calculate their own Affinities, and there is no Empower available.
4.Each team must have a designated Leader.
Weekly Free Hero Introduction
1.Weekly Free Hero is pulled from Epic and Legendary Heroes.
2.Weekly Free Heroes are level 85, have full talents, equipped with level 85 Affinity and Legendary equiment, Legendary+3 quality, full Stars, and Awakened status. Equipment will not have refinement stats and Hero has no skill breakthroughs (Breakthrough skill, Leader skill, Ultimate skill).
3.Weekly Free Hero resets every Monday at 3:00AM.
4.When entering the Conquest interface for the first time each week, players will choose 1 Weekly Free Hero from 3 random choices.
5.Select a Free Hero that best synergizes with your own heroes.
Strategy and Tips:
1.Remember matches are best 3 out of 2, so use your best team to easily defeat their average team, and your average team to defeat their weakest team.
2.Try to use Heroes from the same faction to activate more Affinities and boost BR.
3.You can de-rank from Lv16 to Lv25, so try to get to Legend as fast as possible.
4.After reaching Legend Rank, don't stop improving. The higher you place within Legend Rank, the better the rewards.
The 2-week long Conquest seasons are full of surprises and upsets! Can you reach the top and cement yourself as a true Legend of Spirit Guardian?
Additional Information:
Play Spirit Guardian absolutely free by visiting the following link:
http://spirit.gtarcade.com/
For regular updates, be sure to follow Fire Raiders on Facebook at:
https://www.facebook.com/pages/Spirit-Guardian/646800185429730
About GTArcade:
GTArcade is a leading developer and publisher of free online games. With its guiding principle of "sharing simple joy," GTArcade has created award-winning MMORPG and strategy games for browser and mobile platforms around the world. Visitwww.GTArcade.com today and play all our games for free! Partake in the gaming experience of a lifetime!