Hello Raiders! Have you become familiar with the new Element system introduced in version 2.0 of Spirit Guardian? Are you already a master or still a novice? For those who are still a little confused about the new system, don't worry, this detailed guide will turn you all into you Masters of the Elements!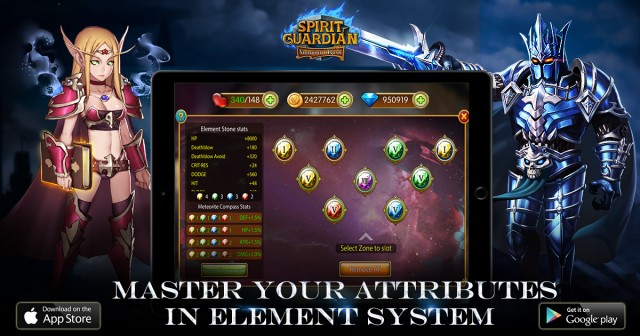 I. Element System Rules:

1. Element System unlocks at level 28.
2. Unlocked Compasses can be used by all Heroes. Any Hero above level 10 can activate an unlocked Compass to gain its stats.
3. Every Hero can only equip an unlocked Compass.
4. Players will get 2 initial Compasses: Lifeseed Compass and Meteorite Compass. Other Compasses require Compass Keys to unlock, which are rewards from special events.
5. Each Compass has 9 slots for Element Stones. The type and quality of Element Stones and how you slot them will determine what stats are provided.
6. Each Compass has up to 4 stats of its own that can be unlocked if the correct type and amount of Element Stones are slotted. See image below ("Meteorite Compass Stats"):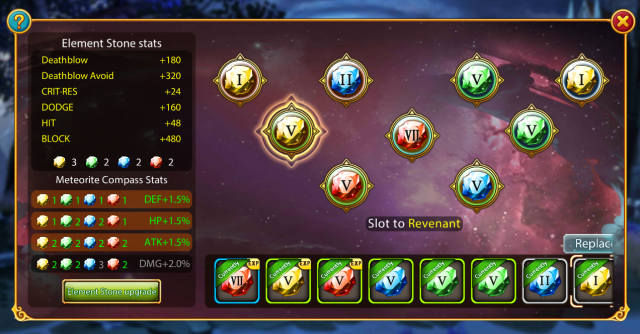 Tips:
1)Switching your Compass is easy, just select the new Compass you want to use and activate them to switch automatically.
2) When switching Compasses, the slotted Element Stones will not change. Players should manually rearrange the Element Stones according to the new Compass.
II. Where to get Element Stones:

1. Element Stones can be acquired from Element Bash, and each element's Dungeon will drop the corresponding Element Stones.

2.Dissolving Epic and Legendary equipment can give Element Stones.
3.Element Stones can be bought from the Honor Shop.


III. Additional Tips
1. Element Stones can be leveled up using other Element stones as materials. You will get a bonus when using the same type of Element stone to level u.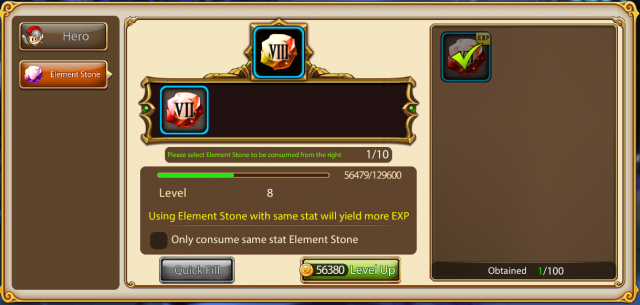 2. In the Compass interface you can view each Element Stones provided stats in each zone slot.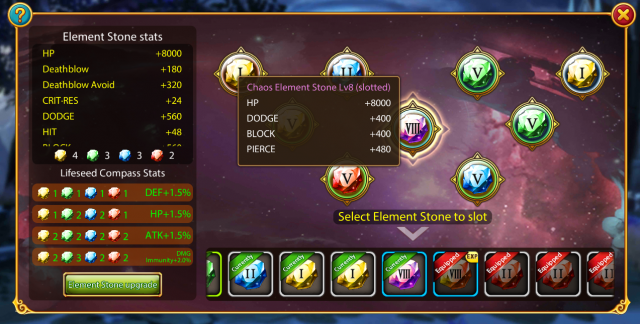 3. Try to unlock all 4 stats of the Compass to obtain the additional % boost in stats for your Heroes.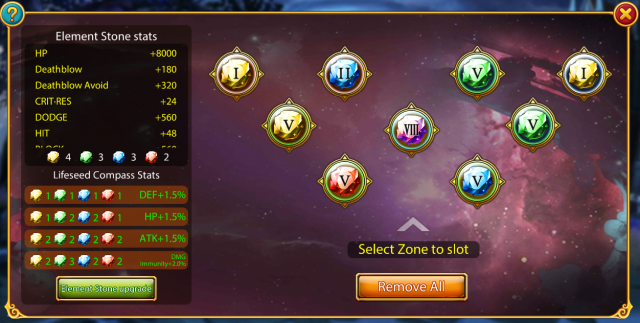 4. You can use the Element System to make your Heroes even better at their roles or improve them in areas that are lacking. The choices are endless!
5. Remember to readjust your Element Stones after switching Compasses to make sure the Compass stats are unlocked!


Now that you know more about the Element Stone and Compass system, how will you use them to your advantage? The possibilities are limitless! Play Spirit Guardian and experience one of the best strategy RPG's on mobile, for free!
Additional Information:
Play Spirit Guardian absolutely free by visiting the following link:
http://spirit.gtarcade.com/
For regular updates, be sure to follow Fire Raiders on Facebook at:
https://www.facebook.com/pages/Spirit-Guardian/646800185429730
About GTArcade:
GTArcade is a leading developer and publisher of free online games. With its guiding principle of "sharing simple joy," GTArcade has created award-winning MMORPG and strategy games for browser and mobile platforms around the world. Visit www.GTArcade.com today and play all our games for free! Partake in the gaming experience of a lifetime!