Strategy for Affinity Dreams
A new feature Affinity Dreams has been issued in the latest version 1.6.0. Are you confused about how to play it? Do not worry, here comes the strategy for it.
Affinity Dreams is a kind of flop cards game.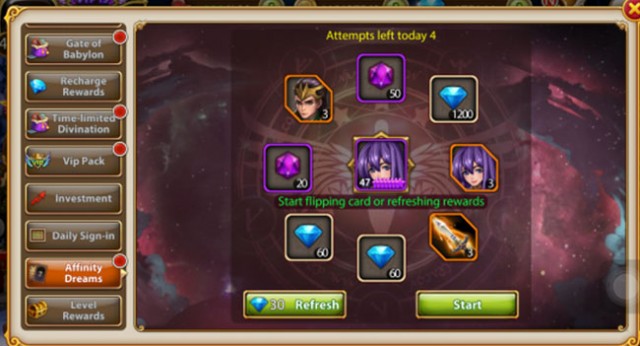 You can choose a legendary hero by clicking the icon in the middle of the cards , then click Start, and different hero shards, equipment shards, diamonds, Amethyst, Refining Stone and etc will show up randomly.
PS:
A. If you do not want the items appeared, you can click the icon Refresh to change the items. But the price will rise every time, which means the more times you refresh, the more diamonds you need to spend. Therefore you need be careful when you click this button. We suggest you do double check whether there are items that you need in the rest of them.
B. If you want to choose another hero instead, you can click the current hero's avatar to change. But it will consume an attempt you left. Attempts are reset per day, please use them wisely.
Items appear randomly after you refresh, and the order of them is also different. You will collect corresponding reward when you flop one of the cards. The first Affinity is free, while the attempts following are not. You need spend diamonds, and the amount of which will be increased each time.
Tips for Affinity Dreams
A. As the attempts of refreshing and affinity increases, the number of diamonds will also increase. According to my experience, refresh in 2 times and affinity in 4 times is worthy.
B. The affinity of the legendary hero you choose will affect those rewards. So if you choose the heroes in your party, it will be more helpful for you to get corresponding affinity heroes or affinity equipment.
C. High level VIP have more attempts, so they can get more awesome rewards from it.
Keeping In Touch
The best way to keep up with the latest news from Spirit Guardian is to follow our fanpage on Facebook and visit our official site @http://spirit.gtarcade.com. Through these channels we announce official news, launch new events, and provide game strategies. The Spirit Guardian Team is focused and determined to give you an unparalleled gaming experience. Again, thank you for your support and we wish you a happy journey in Spirit Guardian.

About GTArcade:
GTArcade is a leading developer and publisher of free online games. With its guiding principle "sharing simple joy", GTArcade has developed award winning MMORPG and strategy games for browser and mobile platforms around the world. Visit http://www.gtarcade.com/ today and play all our games for free to partake in the social gaming experience of a lifetime!