New Legendary Hero: Pandora
Version 2.0 of Spirit Guardian introduces several new heroes to you, and today Pandora is the first to be relived!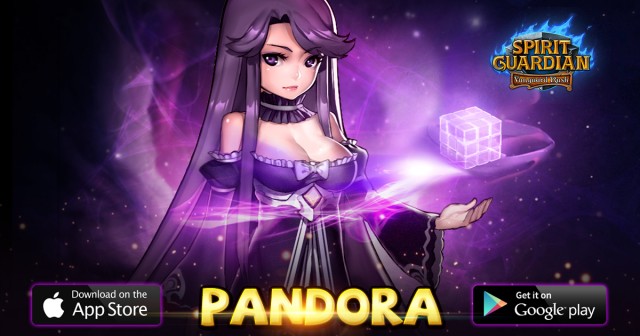 Wearing a purple robe, Pandora is an alluring beauty that has broken the hearts of thousands of men. This mischievous girl carries an ancient artifact of great power. When she is angered, her enemies will suffer great calamities as she unleashes the evils contained in her infamous Pandora's Box. Now she is joining Spirit Guardian to feed more secrets to her artifact.
Following Athena, Arwen, and Alpha-Prime, Pandora will be the fourth legendary hero in the game. Pandora is a support hero that focuses on afflicting negative debuffs on her enemies.
Her Ultimate skill, Ill Omen, deals a large amount of continuous AOE damage before converting a portion of the damage into a heal. Dark Pulse is another high impact ability that silences multiple enemies, rendering them nearly helpless for the duration. Check out the rest of her abilities and her Affinities in game now!
What do you think about her? Would you want to fight with her?Join Spirit Guardian-Vanguard Rush today and experience one of the best free to play games on mobile!
Additional Information:
Play Spirit Guardian absolutely free by visiting the following link:
http://spirit.gtarcade.com/
For regular updates, be sure to follow Fire Raiders on Facebook at:
https://www.facebook.com/pages/Spirit-Guardian/646800185429730
About GTArcade:
GTArcade is a leading developer and publisher of free online games. With its guiding principle of "sharing simple joy," GTArcade has created award-winning MMORPG and strategy games for browser and mobile platforms around the world. Visitwww.GTArcade.com today and play all our games for free! Partake in the gaming experience of a lifetime!