Spirit Guardian - Vanguard Rush
Update 2.0
Spirit Guardian - Vanguard Rush, GTArcade's grand 3D strategy RPG for mobile, is very excited to introduce Update 2.0! Whether players are into action, strategy, or RPG, Spirit Guardian has something for everyone, and it's about to get even bigger! As one of the largest updates since launch, this version is filled with new features and content for players to explore and greatly expand the Spirit Guardian universe. Here's what players can look forward to in new update: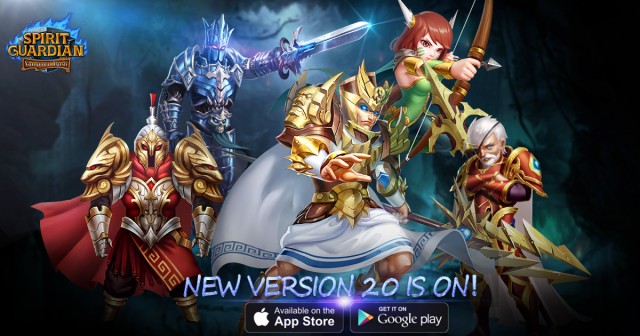 Update 2.0 includes:
New PvP Mode: Honor Arena (Cross-server PvP)
New PvP Mode: Conquest (Team PvP)
New Feature: Element System
New Heroes: Sun Ce, Azure, Crusader, Bahamut, Master Ziya, Chosen One, Pandora, Iron Fist
Tower of Babel Optimization
Various bug fixes
Honor Arena
Cross-server PvP is here! Honor Arena is a new mode that will pit the top players from all servers against one another to determine who really is the ultimate Dream Raider! Players who place in the top 50 ranks in Arena are automatically qualified for Honor Arena. Honor Arena will play out in weekly sessions that last 3 days each. Fight for the top spot, for great rewards await those who can conquer all their rivals! Honor Arena is the pinnacle of competition for players that want to prove themselves to the world!
Players that did not qualify can still participate by Investing (Diamonds or Gold) in the qualified players. Players can earn rich returns on their investment based on the performance of the chosen player. Picky wisely and great rewards will come. Players can also "Like" participants, which rewards special Honor currency to both the sender and receiver.
Conquest
Conquest is a brand new Team PvP mode coming in 2.0. Unlocked at level 70, players must create 3 teams of Heroes and battle the teams of players in a 21v21 ranked competition. To win, players must win 2 out of 3 battles against their opponent. Conquest is played in Seasons and each season will last 2 weeks. Truly great rewards can be earned in Conquest, including new Avatar frames to display to the world! There are numerous ranks to achieve, and the #1 ranked Legend will receive a unique Champion avatar frame at the end of the season! Climb the ranks and show the world your undeniable might!
Element System
Element System is a new Hero progression system being introduced in Update 2.0. Unlocked at level 28, players will find Keys throughout their adventures, which are used to unlock Compasses that can be equipped on their heroes. Players will be able to slot Element Stones (Fire, Water, Wind, Earth and their combinations) into these compasses to add great attributes to their Heroes. Choose which stats you want for your heroes and arrange Element stones in your compass in the right order to unlock even more bonuses! Customize your Heroes like never before with the !
Augment
Following the refining System and Enchanting System, Augment offers you another new ways to increase the Stats for your equipment. Augment system unlocks at Lvl 60 and is only available in Legendary Equipment. This system not only boosts the basic stats, also increase stat bonus per level for your equipment. There are 5 levels await you to level up to in Augment! Now boost your beloved legendary equipment in Augment and see how this feature brings you honor in Dreamland!
New Heroes
A total of 8 new Heroes will make their debut in Update 2.0! This is one of the biggest expansion of characters since launch! These powerful Heroes are sure to shake things up and change battle tactics. Sun Ce, Azure, Crusader, Bahamut, Master Ziya, Chosen One, Pandora, and Iron Fist will be joining the Spirit Guardian cast. Check out these new heroes and see how they can improve your formations!
Tower of Babel Optimzation
A number of improvements have been made to the Tower of Babel. In Update 2.0 the stamina cost for Tower of Babel will be reduced from 12 to 8. Heroes can be revived during the event. Each heroes can be revived for 3 times at most with diamonds! Meanwhile, you can use our new item Heal Orb to revive them and it will not consumed your 3 times. Besides, a new button has been added into Tower of Babel that will allow players to go straight to the Equipment interface and back without going through multiple screens.
We hope players will enjoy all the content Update 2.0 has to offer. If you haven't experienced Spirit Guardian yet, stop daydreaming and start your great adventure today!
Additional Information:
Play Spirit Guardian absolutely free by visiting the following link:
http://spirit.gtarcade.com/
For regular updates, be sure to follow Fire Raiders on Facebook at:
https://www.facebook.com/pages/Spirit-Guardian/646800185429730
About GTArcade:
GTArcade is a leading developer and publisher of free online games. With its guiding principle of "sharing simple joy," GTArcade has created award-winning MMORPG and strategy games for browser and mobile platforms around the world. Visitwww.GTArcade.com today and play all our games for free! Partake in the gaming experience of a lifetime!