New Hero: Hime
Spirit Guardian-Vanguard Rush, GTArcade's unique action strategy RPG on mobile, is happy to announce a new hero taking center stage - Hime, the dazzling diva!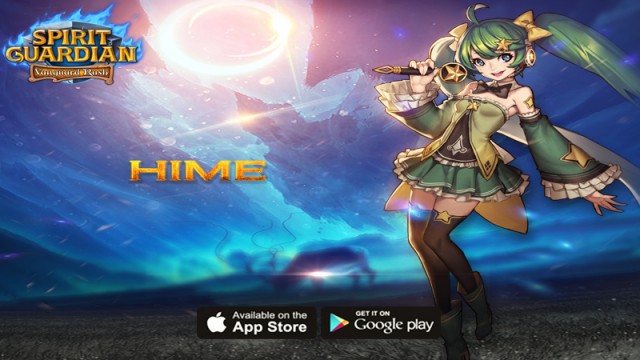 Considered by many as the jewel of Dreamland, Hime is finally making her grand debut. Don't be fooled by her dainty appearance, Hime has experienced more in her young age than most can imagine. This famous Pop Star has legions of devoted fans and performed countless sold-out shows. Besides charming millions with her beautiful songs and dances, Hime loves practicing various musical instruments and dressing up in cute outfits.
Her name, meaning princess, perfectly describes her grace and elegance on the battlefield. Hime relies on her powerful and angelic voice to provide crucial support for her teammates. With a multitude of healing abilities, if players are looking to add a healer to their team, Hime is the perfect choice.
Hime's healing comes in both single target and AOE varieties, and each also gives other benefits. Her Red Campaign skill heals a critically injured ally while knocking away nearby enemies to keep the ally safe from harm. It is a great tool to save ranged teammates from being swarmed by melee enemies while giving them much needed space to deal more damage. It can also give the frontline tank a moment to recover and refresh cooldowns. Hime's Dolphin Sound skill provides continuously healing to the entire team, making it ideal against AOE damage. It also grants rage to allies, so it has both defensive and offensive applications.
Besides healing, Hime also has an AOE debuff skill called Incomparable Beauty. This skill mesmerizes enemies with through her exquisite performance, slowing their movement and attacks. Think of it has an indirect way of healing by lowering the attack potential of all affected enemies.
Hime is a great overall support hero and can fit into many different types of formations. Play Spirit Guardian-Vanguard Rush today and watch this mighty diva wow the crowd!
Additional Information:
Play Spirit Guardian absolutely free by visiting the following link:
http://spirit.gtarcade.com/
For regular updates, be sure to follow Fire Raiders on Facebook at:
https://www.facebook.com/pages/Spirit-Guardian/646800185429730
About GTArcade:
GTArcade is a leading developer and publisher of free online games. With its guiding principle of "sharing simple joy," GTArcade has created award-winning MMORPG and strategy games for browser and mobile platforms around the world. Visitwww.GTArcade.com today and play all our games for free! Partake in the gaming experience of a lifetime!