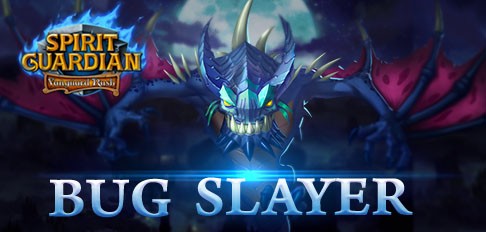 Duration: 8/7-8/21 EDT (forum time)

Description:
How do you like Spirit Guardian?
There may be some bugs in the game. Please help us to collect it!
At the same time, if you have some good ideas about the game, don't hesitate to tell us. Let's improve the game together!
Details:

We will split the participants into 2 groups and give them 2 kinds of rewards.
Basic Reward: For players who found out typo, and display bugs.
Advanced Reward: For players who help us find out function bugs.
*Note: Only the first player to submit a particular bug will receive a reward (according to post time). Subsequent submissions of the same bug will not receive any rewards.
There is a chance that you may both receive basic reward and advanced reward! (Basic/Advanced Reward itself will not be aggregated)

Rules:

I. Reply to this post with bugs(Join this event in our forum). Submissions made through other means will not be eligible for rewards.
II. Make sure to include your Character ID, server name, any screenshots, and a detailed description of the bug you encountered.

Rewards:
Basic Reward:500 diamonds
Advanced Reward:1500 diamonds

The reward will be sent directly to your in-game mail from our GM center in3-5 working daysafter the end of the activity.

Official Site: http://spirit.gtarcade.com/
Forum: http://community.gtarcade.com/group/2105
Facebook: https://whttps://www.facebook.com/pages/Spirit-Guardian/646800185429730